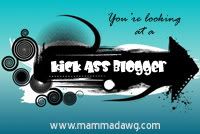 Thank you Iceah for the kick ass blogger award! You also deserve this award, I love reading your blog. If any of you have not been on Iceah's blog visit it here:
http://wow-legs.blogspot.com/
or
http://pinay-chicken-heart.blogspot.com
/
I should pick five people to nominate..but I can't to many to pick from...so if you read this post and you leave comments on my blog so I can find you..then you know I lurk on your blogs, so to my blog buddies you know you are on my best blog list!! Have a great day all...and Thank you again Iceah!! :)
Later Tators!